Raw material procurement:
Purchasing engineers shop around core raw materials such as PCD, cemented carbide, etc. that affect product quality and performance to ensure the selection of the best quality raw materials. In addition, the company maintains long-term cooperation with suppliers with stable quality to ensure a stable supply of raw materials. Purchasing engineers also regularly audit suppliers' quality management systems to ensure that their quality standards meet company requirements. These measures ensure the quality and performance of the products from the source, as well as customer satisfaction.
In addition to the purchase of raw materials, the company also pays attention to the design and manufacture of products. Our team of designers and engineers spend a lot of time and effort researching how to optimize the product. They use the latest technology and tools to achieve this goal, and they pay close attention to every detail. At the same time, our manufacturing team is also very professional and rigorous, they will use the most advanced equipment and processes to ensure the quality of the product. These measures not only help to improve the quality and performance of the products, but also help to increase the competitiveness of the company.
In addition to the quality and performance of the product itself, we also pay attention to the service experience of our customers. Our customer service team will provide thoughtful service, solve various problems and concerns for customers, and timely feedback customers' opinions and suggestions. At the same time, we also regularly conduct customer satisfaction surveys to understand customer evaluation of our products and services, and improve and optimize them in a timely manner. These measures help to improve customer satisfaction and form a good word of mouth and brand image.
To sum up, our company is famous for high-quality raw materials, superb design and manufacturing technology, thoughtful customer service. We will constantly strive to improve ourselves and provide customers with better products and services.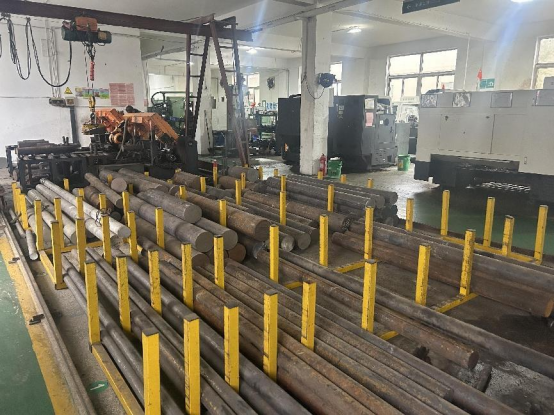 Product Manufacturing:
The manufacturing process of our tool saw blade products is very complete because we are constantly working to improve our technology and manufacturing capabilities. We have skilled workshop operation technicians, and use CNC automatic five-axis CNC machining equipment imported from Japan, Germany, Taiwan and other countries, which are constantly updated and upgraded. These equipment can not only manufacture high-quality tool products, but also greatly improve our production efficiency, with an annual output of more than 10,<> units. In addition, we actively participate in industry conferences and events to learn about the latest technologies and industry trends.
Not only are our tool products subjected to rigorous testing and quality control to ensure they meet our standards, but we also employ innovative design concepts and materials. We pay attention to detail in the production process and use high-quality raw materials to ensure that our products have a longer service life and better performance. Our tool products are widely used in various industrial fields, including machinery manufacturing, automobile manufacturing, aerospace and other fields. Provide customers with high-end tool products covering furniture, doors and windows, solid wood, wood-based panels, electronic circuit boards, high-speed rail, aerospace and other industries and categories.
We are committed to providing customers with the best quality products and services, and actively respond to customer feedback and suggestions to continuously improve the quality of our products and services.