Custom Design:
Jiandeli has been adhering to the "craftsman spirit" of excellence, has been deeply engaged in the industry for many years, and has a pivotal position in the manufacturing industry. Jiandeli is well recognized and praised by customers with high-quality services, and at the same time cultivates a group of professionals in the industry, and has a professional technical research and development team. In order to ensure that our customers can get the best user experience and value, we constantly improve our products and services, continuously follow up on customer feedback, and timely optimize and improve design solutions to meet the growing needs of customers.
Tool cutting angle design is our sales engineer after receiving customer orders, will carry out customized design and development for different customers' knife and saw cutting needs. Our engineers communicate with customers to understand their needs and make recommendations to ensure that their input is fully considered during the design process. These designs include but are not limited to the cutting angle, material, shape, etc. of the tool, and we will provide better service according to the specific requirements of customers to ensure customer satisfaction with our products and services.
In this era of change, Jiandeli will continue to be committed to developing more products that meet customer needs, constantly follow market trends, constantly reform and upgrade its professional and technical level, and contribute to the high-quality development of the industry.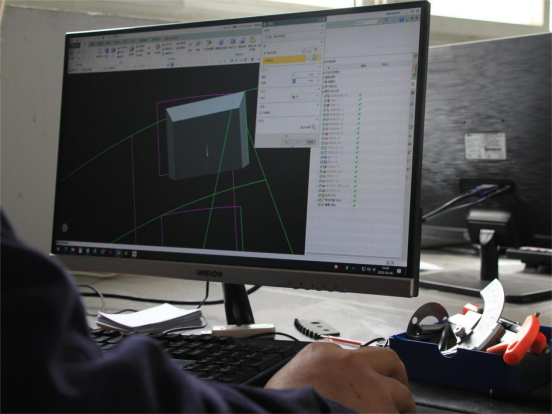 New product development and machine testing:
We are committed to providing customers with high-quality tool design services, so our professional tool engineers always pay attention to the innovative research and development of new technologies and products. When developing new products, we not only develop according to market demand, but also on the basis of in-depth understanding of customer needs. We believe that only by deeply understanding customer needs can we develop new products that are more in line with the market and customer requirements.
To ensure that our new products achieve the best results, we conduct a series of hands-on tests. These tests not only cover a large amount of data and various parameters, but also simulate tests in a variety of real-world scenarios. During testing, we continuously optimize our products and services to ensure that our customers receive the best user experience and value.
In addition to the development and testing of new products, we also carry out market demand forecasting and analysis. We deeply understand market trends and customer needs, and use this information to improve and upgrade our products. We believe that only by constantly updating and improving our products and services can we meet the needs of customers and stand out in the market competition.